Datum
24.04.2023
Uhrzeit
19:00 – 21:00
Ort
Humanistische Psychotherapie Praxis
Obere Zaüne 14
8001 Zurich
Schweiz
Leitung
Termin übernehmen
"The only way to make sense out of change is to plunge into it, move with it, and join the dance." ~Alan Watts
5Rhythms is a dynamic, transformational embodiment practice which makes use of the most simple & effective human technologies we have—breath, body, & music—to grow, heal, deepen, & ultimately transform our consciousness.
In this class, dancers are invited to strengthen their relationship to themselves through awareness, expression, & surrender. We dive deep, fly high, root into truth & meet our courageous hearts again & again on the dance floor.
This is a strongly facilitated class aimed at deepening our practice. We will spend time in guided exercises, group work, as well as free-form movement practice.
Expect to experience yourself on the edge of your comfort zone in moments, expect to experience yourself held in a deeply compassionate embrace always.
No experience necessary. All bodies & fitness levels warmly welcomed.
LOGISTICS
Mondays, 19.00–21:00. 30 CHF at the door. Student discounts & class cards available on request.
Doors open 15 minutes before class & close at 19:30. No one will be admitted after doors have closed.
Dress to sweat. Bring H2O.
Please note that the FINAL MONDAY of the month, class will be limited to WOMEN ONLY.
Class taught in English.
THE SPACE
Obere Zaüne 14. Ring the bell for 'gruppenpraxis.' Join us downstairs.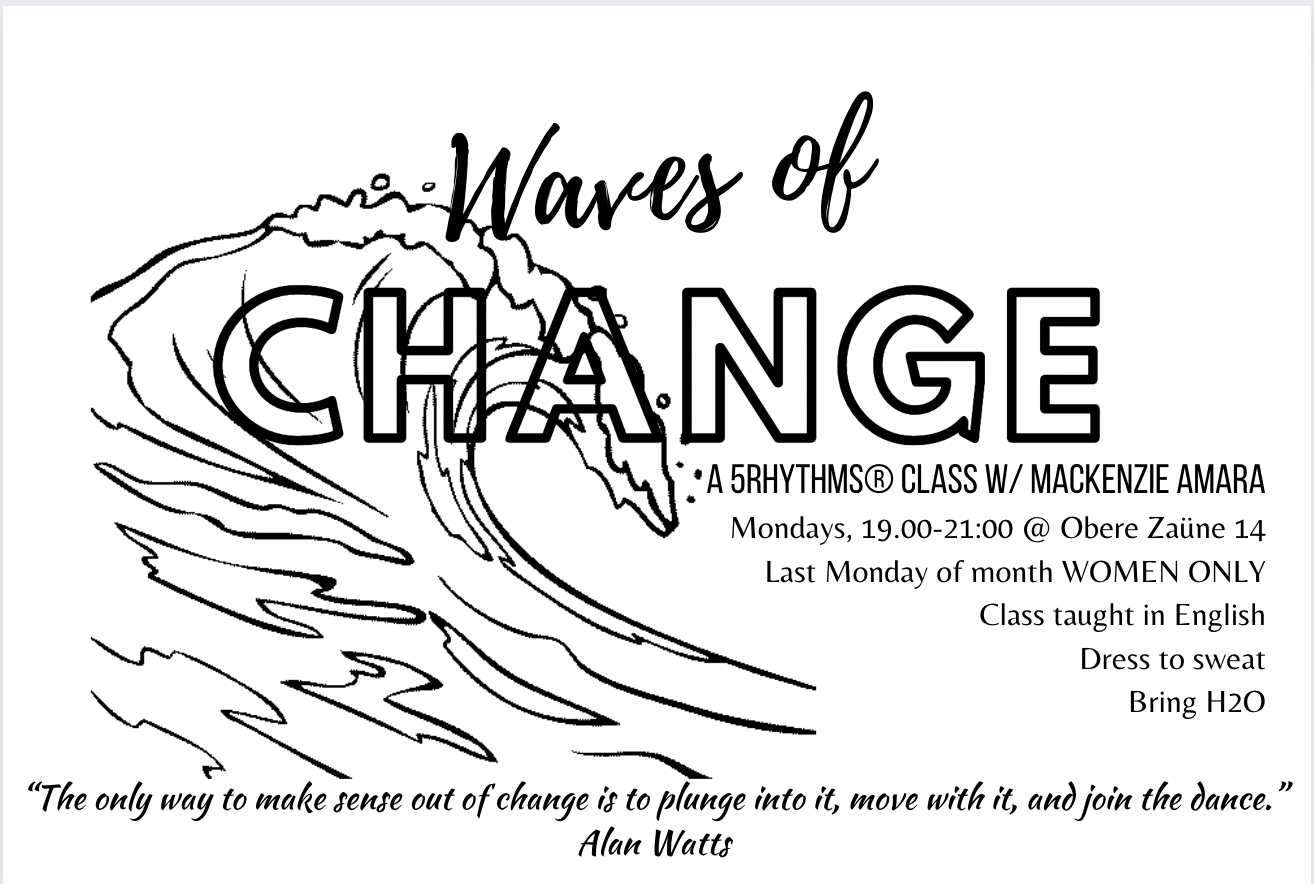 Small kitchen, changing room, & shower on premises. Bring what you need to be comfortable.
ABOUT YOUR TEACHER
Mackenzie is a soul scientist, embodiment devotee, & alchemist with over a decade of experience facilitating group process. In daily life, she works as a Jungian psychotherapist & psychedelic guide. A student of her body, depth psychology, & nonduality, she shows an inspired dedication to growth and freedom for all beings. She listens deeply, sees clearly, & is unafraid of the dark within herself & the world.