Datum
12.09.2021 – 17.09.2021
Uhrzeit
14:00
Ort
Ibiza – Spain
Ibiza
Ibiza
Spanien
Leitung
Termin übernehmen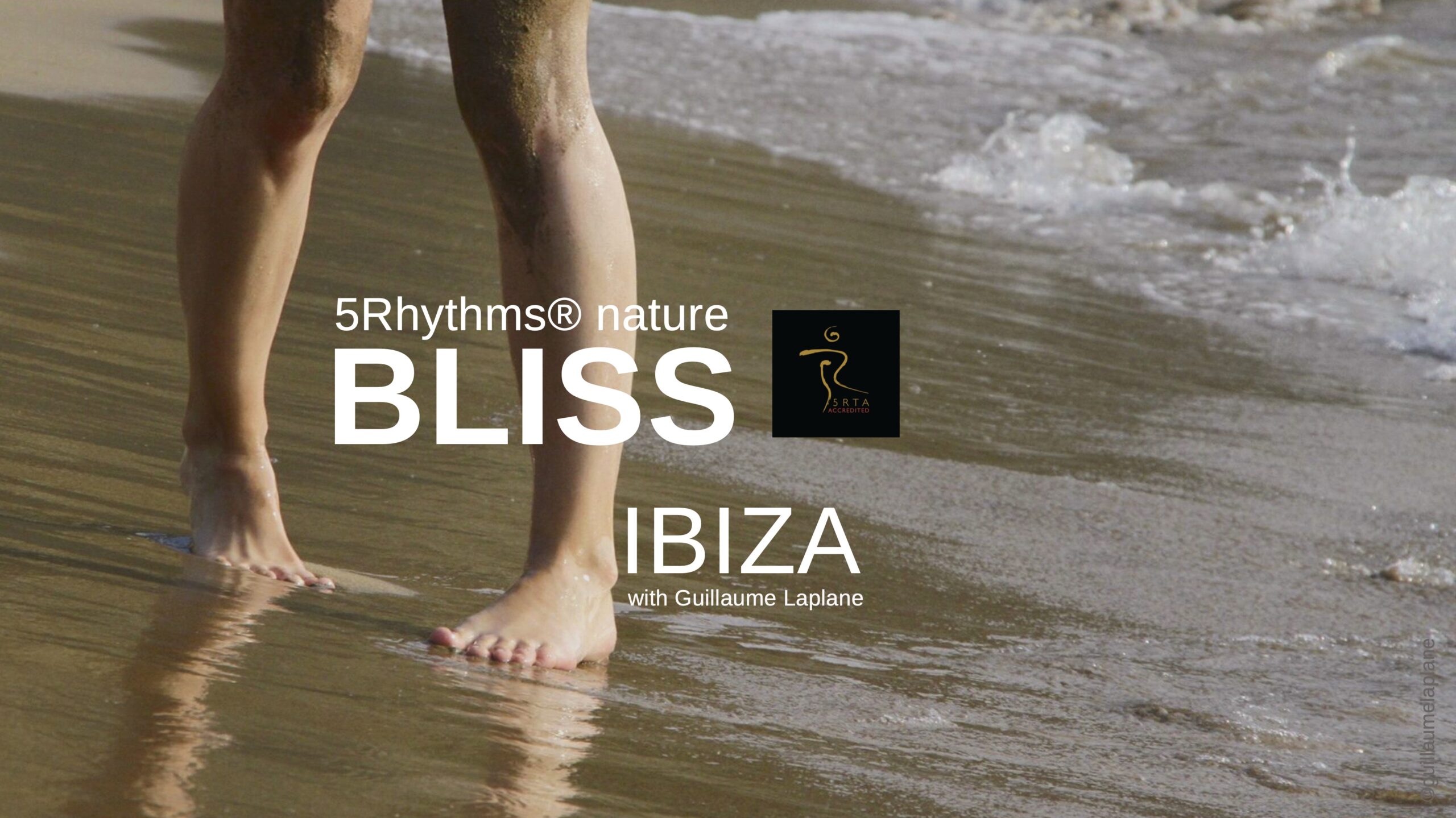 BLISS – IBIZA – Movement Retreat – September 12th (2 pm) – 17th (2 pm), 2021
5RHYTHMS® WAVES, ELEMENTAL EXPLORATIONS
*
Dear dancers
Be very welcome!
You'll find here all the details for this magical Indian Summer retreat.
*
This special 5R retreat takes place in the north of Ibiza in the most beautiful and preserved areas of this powerful Island.
This retreat is an invitation for you to dive deeper into your practice of the 5Rhythms thought
specific explorations of the 5Rhythms map of Gabrielle Roth
in connection with the elements and the amazing nature that surrounds us there.
We will have 2 sessions per day of 2,5 hours of dance, moving meditation and sensorial explorations.
Our sites are the wooden dance deck in the garden (the best outdoor floor I ever experienced),
the sand and waves of the beach,
the magnificient rocks by the sea and our private forest.
We will also have time to relax around the pool, swim in the ocean and share in the Ibiza's beautiful Nature.
*
Practicals
We meet Sunday September 12th at 2 pm in Ibiza town.
We finish at 2pm Friday September 17th, back in Ibiza town around 3pm.
*
PRICE: 1 + 2
1. Teaching fee:
400€ super early bird for the 8 first registrations before August 1st
450€ early bird price for registration before August 1st
500€ normal price for registration after August 1st
2. Accommodation fee including ROOM + delicious MEALS and CO-RENTAL of CARS:
475€ to 775€ ( depending on your room options )
* Retreat limited to 20 participants. *
To register please follow these steps:
1. Read all the information in this document.
2. To secure your place please make the payment of €220 booking fee
3. Fill up your registration
form
with your accommodation choice. (please tell us your favourite options and we will do our best, bookings are proceded on the basis of first booked, first-served)
4. Please send us a portrait photo (head and shoulders) and some words with your intention for this retreat. This is in order for us to get to know you before the start of the Retreat.
Once registered you'll receive a fully detailed documentation to support the preparation of your journey.
Once the minimum number of participants is reached you'll receive a message and you will be abble to book your flights and other accommodations.
*
This retreat count as 5 days of Waves® as prerequisites to the 5Rhythms teacher training.
To book your place: Tickets
*
Web sites offering interesting flight tickets:
Make sure you do research your flight tickets under a « Private navigation window »
on your browser, you will save money. (File > New private window)
The best is to only check when you are about to book your ticket right away… otherweise companies always put their prices up when you check as a second time.
*
Looking forward to sharing the dance with you very soon.
With our best wishes
Guillaume & Team
Day schedule
*8:30 Breakfast
* 10:00–12:30 5Rhythms Studio or Nature experience
12:30 Lunch break
* 16:00–19:00 5Rhythms Studio or Nature experience
19:30 Dinner
***
BLISS – IBIZA – Movement Retreat DANSE DES 5 RYTHMES® et Explorations en nature.
du 12 septembre 14h au 17 septembre 14h.
Cette retraite unique des 5 Rythmes en nature a lieu au nord de l'Ile d'Ibiza dans les zones les plus belles et les plus préservées de cette île puissante.
Cette retraite est une invitation à approfondir votre pratique des 5Rythmes avec des
explorations spécifiques de la carte des 5 Rythmes de Gabrielle Roth en lien avec les éléments et la nature étonnante qui nous entoure.
Nous nous retrouvons au centre ville d'Ibiza city (Eivisa) et irons ensemble en voiture à notre lieu de stage dans le nord de l'Ile (30′ de route).
Nous danserons sur un plancher de danse en bois au milieu d'une petite forêt de pins et irons également explorer sur des sites magnifiques, plages et rochers.
Les journées sont organisées de façon à avoir du temps pour se reposer et aller à la plage.
Deux sessions de danse par jour.
Les repas sont préparés par Tom qui est un excellent cuisinier végétarien, le lieu qui nous accueil est une maison de 400 ans avec un magnifique jardin et une piscine à l'eau salée.
Vous avez la possibilité de réserver une chambre partagée ou simple ou double.
Le nombre de chambres étant limité, vous pouvez remplir vos préférences ici et nous ferons de notre mieux pour y répondre, la répartition se fait par ordre d'inscription.
TARIF: 1 + 2
1. Part enseignement:
400€ super réduit pour les 8 premières inscriptions avant le 1er août
450€ réduit pour les inscriptions avant le 1er août
500€ normal après le 1er août
2. Part logement incluant les délicieux repas et co-location de voiture:
de 475€ à 775€ pour 5 jours et 5 nuits ( en fonction de votre choix de chambre )
* Stage limité à 20 participants. *
Ce stage compte pour 5 jours de Vagues® des 5Rythmes en prérequis à la formation des enseignants.
Une fois le nombre minimum de participants atteind, vous recevrez un message et pourrez réserver vos vols.
*
Sites interessants pour réserver votre vol:
La meilleure façon de faire est de regarder uniquement le jour ou vous savez que vous allez acheter votre billet directement, autrement même en recherche en naviguation privée sur votre moteur de recherche, les compagnies augmentent leur tarifs lors d'une second connection pour recherche de tarifs…
***
Pour vous inscrire:
1. Procédé au règlement des arrhes de 200€ sur ce lien: Billets
2. Remplissez ce formulaire avec vos choix favoris d'hébergement, nous ferons notre possible pour y répondre, l'attribution des choix se faisant par ordre d'inscription. form
3. Envoyé par email une photo portrait et quelques mots sur vous et sur votre intention en rejoignant ce stage, une façon de commencer à vous connaître un petit peu.
Contact
www.guillaumelaplane.com / +33665604718
(Pour plus d'informations en Français n'hésitez pas à nous contacter par email ou téléphone)
au grand plaisir de partager ce stage avec vous.
Chaleureusement
Guillaume & Team