The 5Rhythms work is divided into different levels, all of which form a base for our deeply personal practice. Each level of the work builds on the one before as we naturally unfold and unravel towards our authentic self. Each level of the curriculum has an essential teaching:
Waves: Being/Body
Heartbeat: Loving/Heart
Cycles: Knowing/Mind
Mirrors: Seeing/Soul
The Silver Desert: Healing/Spirit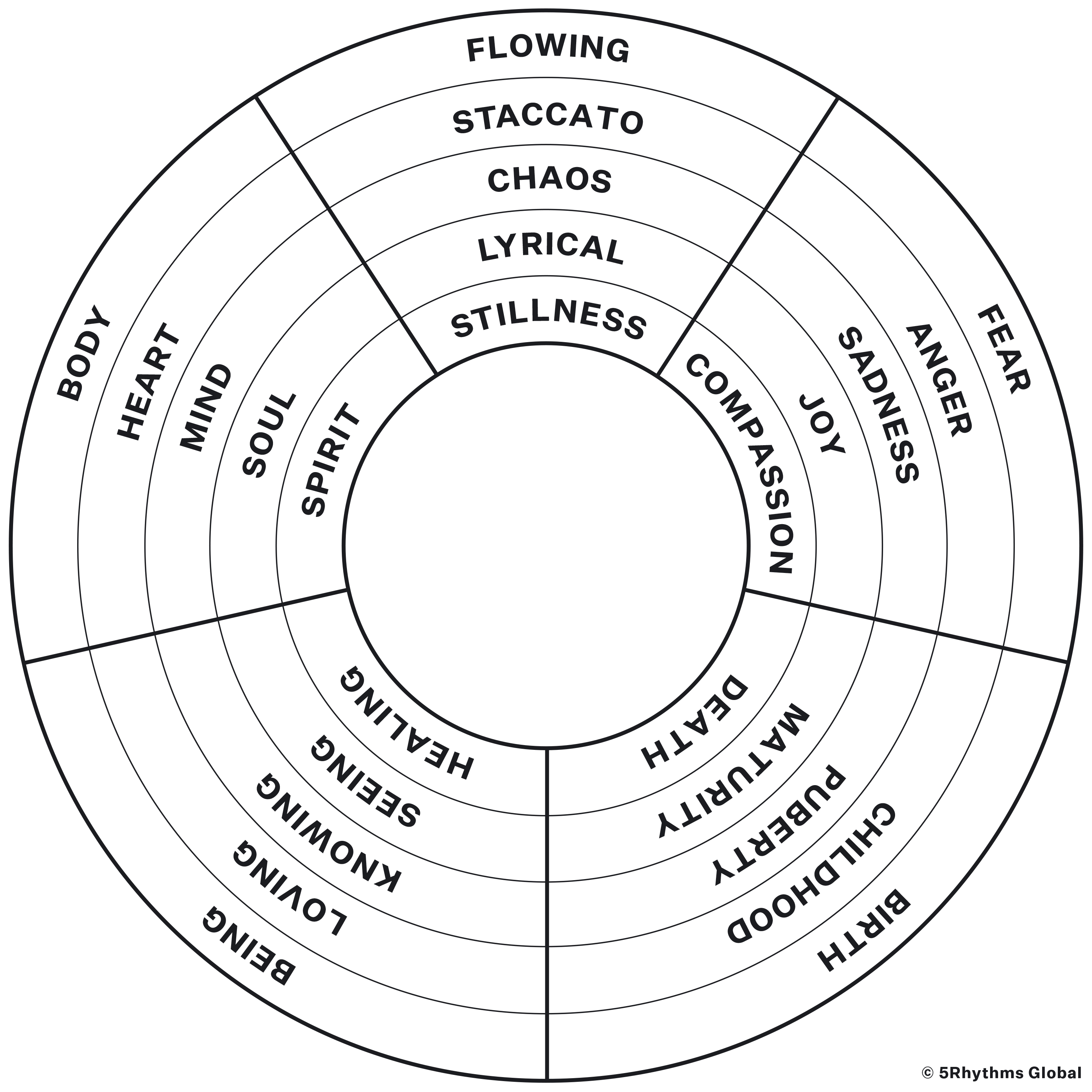 WAVES
The Dancing Path begins with Waves: the foundation and fundamentals of the practice.
There is a spiritual force driving our dance that strips us to our naked soul, a force that allows us to be the dancer rather than do the dance. This force is unleashed by the 5Rhythms into an energetic language that reveals us to ourselves in action, alone, together and as a tribe.
FLOWING – STACCATO – CHAOS – LYRICAL – STILLNESS

The Focus: the body as a fluid entity.
The Outcome: we discover our feet and stop holding our breath.
HEARTBEAT
In Heartbeat we explore our emotions as energy, as power, as part of being human. Old feelings that have been locked in our limbs or caged in our chest begin to shake loose. We get comfortable with feelings, neither hanging onto them nor pushing them away.
FEAR – ANGER – SADNESS – JOY — COMPASSION

The Focus: the spontaneous heart.
The Outcome: We can feel when our hearts are open, when they are closed, what all this has to do with love and how badly everybody needs and wants it.
CYCLES
Cycles is an up close and personal look at our own lives, our birth, our upcoming death and everything and everyone between. We make connections, reweave threads, let go of the hurt and humiliations. We get real. We honor the people and events that have shaped who we are and the challenges and gifts they left us with and reinvent our inherited self into somebody we truly want to be.
BIRTH – CHILDHOOD – PUBERTY – MATURITY — DEATH

The Focus: letting go of the past and initiation into manhood and womanhood.
The Outcome: We get behind our own story without being ruled by it.
MIRRORS
The Mirrors Map Suite (Tribal Mirrors, Mirrors, and The Naked Soul) leads us to recognize what Gabrielle Roth referred to as "Ego Characters", how we all have a cast of these endlessly rehashed roles, can learn to spot them, name them, embody them, exaggerate them and practice dis-identifying from them so we might, even when under pressure, move more closely to authenticity, to Soul, to each other, to life and freedom.
BEING – LOVING – KNOWING – SEEING – HEALING
SILVER DESERT
BODY — HEART — MIND — SOUL — SPIRIT